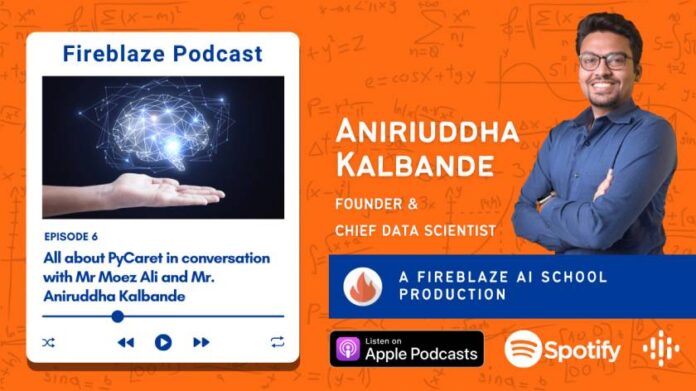 In episode 6 of the Fireblaze Podcast, We discuss all the details about PyCaret with Its founder and Author Mr. Moez Ali.
Key questions discussed.
Q1. – How was your early education and background?
Q2. – Can you tell us about the exciting journey from the commerce domain to transiting in Analytics?
Q3. – Previous work experiences and projects?
Q4. – Motivation behind founding PyCaret?
Q5. – How much time does it took for development and what were your challenges in designing.
Q6. – What were you go-to market strategies which launching version 1?
Q7. – How are you building the team and contributors for PyCaret?
Q8. – What would be the life cycle for a project in Data Science and Machine Learning using PyCaret?
Q9. – PyCaret is a huge success with more than 1,70,000+ downloads so moving ahead what is your vision for PyCaret and where do you see it in the coming days?
Q10. – What are the new features we should look forward to in the coming new versions of PyCaret?
Q11. – What would be your Word of Wisdom for all the new learners and data science enthusiasts?
To hear exclusive topics send mail to info@fireblazeaischool.in
—
Send in a voice message: https://anchor.fm/fireblaze-ai-school/message
Podcast: Play in new window | Download