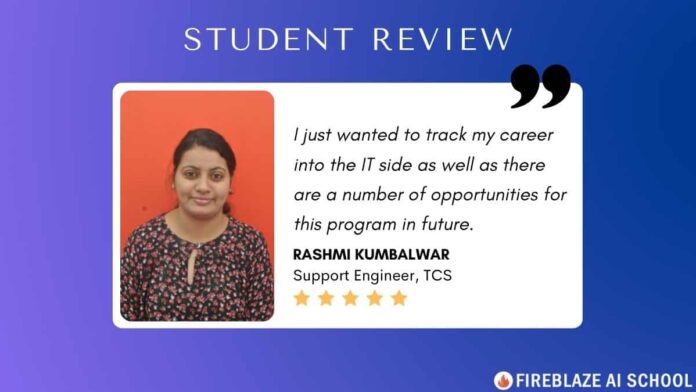 Q1) Why did you take up the DSML Program? 
I just wanted to take my career into the tracks of IT side as well as I found out there were a number of opportunities for this program in future If I took it.

Q2) Did you consider any other programs before enrolling for Data Science & Machine Learning Program(DSML)? 
No I hadn't enrolled in any other program apart from Data Science & Machine Learning Program.

Q3) What did you like the most about the program? 
The thing I liked the most about this program was it was very sorted and helpful to know various predictions of Data and machine learning algorithms. 

Q4) How was the structure of the program? 
Structure of the program is very sorted thanks and the modules are very easy to understand and the assignment helped me alot. Special thanks to the Fireblaze team to guide me all the time.

Q5) Do you want to share anything with other aspirants?
Guys it's a very good opportunity to take this path for your career and with the help of Fireblaze AI school you can easily do it.
 
Q6) Are the learning outcome of the program helping you in your current job? 
Yes, as I'm a working professional so there are no limits where I can use the skills I've learned.

Q7) What kind of career guidance did you got from your mentors?
I got help from Fireblaze team from related resume quires to difficult topics, improving my technical knowledge and skills at the same time. It was just too good.